PSD2 Safeguarding - insurance option
Authorised Payment Institutions (APIs), Authorised E-Money Institutions (EMIs) and Credit Unions that issue e-money have a responsibility under the Payment Services Directive II (PSD2) and Electronic Money Regulations (EMD) to protect customer funds in priority to other creditors if they become insolvent. This is known as 'Safeguarding' and the regulations offering two different Safeguarding methods: 1) segregation; or 2 using an insurance contract or comparable guarantee.  
PSD Bond is the first and, we believe only, insurance contract that meets the requirements of the PSD2 and EMD. Pioneered by Protean Risk, the insurance contract is underwritten by major insurers, including Lloyd's of London, all providing Standard & Poor's or equivalent 'A' rated financial security. It was launched in the UK mid-2019 and has since been accepted for use in Lithuania.  
Deploying PSD Bond as an alternative or complementary method of Safeguarding delivers multiple benefits to APIs and EMIs including reducing their risk and the costs of capital associated with Safeguarding client funds in segregated accounts. It's equally proven to be financially competitive when compared with bank guarantees.  It's why it is being adopted by a growing number of firms in the sector including some of the best known brands.  With our experience of the Payments sector and Safeguarding, we can answer questions you may have, help you identify the benefits and guide you through the regulatory process to successfully deploy the insurance method.   
Key contacts
Tristan Sargeaunt, Dip CII


Director, Fintech and Payment Services
We are members of the Emerging Payment Association and the Association of Foreign Exchange and Payment Companies:
What our clients say

We were introduced to Protean by the firm who were helping with FCA authorisation. They really understand the PII cover requirements for PSD2 and were very quick to review our business model and services. They provided multiple options with comparisons which helped us to clearly understood and choose appropriate risk cover. We surely continue to use and recommend them.

We were introduced to Protean by a trusted partner in 2016 and have worked with them ever since. As experts in Fintech Insurance, they provide a high level of technical expertise, coupled with excellent service. Protean are well connected in the Fintech arena and are also a useful sounding board on broader risk and insurance matters.
Latest thinking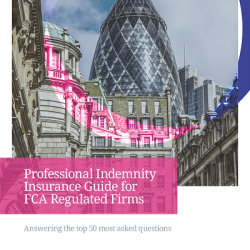 News / by Nathan Sewell
---
Our PI Insurance Guide provides answers to the most frequently asked questions. Read more...
News / by Nathan Sewell
---
Our PI Insurance Guide provides answers to many frequently asked questions Read more...