What we offer
The continued emergence of Cryptocurrency as an asset class and the development in the use of Blockchain/Distributed Ledger Technology is contributing to a significant rise in the level and scope of associated professional and/or financial services. Some of these services are regulated, such as an investment manager investing funds into companies operating in these sectors. Others are not regulated because they are connected advisory services, such as AML/KYC software or compliance advice. Investing or dealing in Cryptocurrency is not currently regulated (other than some cases where the trade is in a derivative product), but there seems to be a desire from most interested parties to introduce more regulation in a fairly short timeframe.
Setting aside the fact that Blockchain is just one example of Distributed Ledger Technology, and both exist in many forms entirely distinct from Cryptocurrency activities, the insurance market is tending to merge such activities together. Over time, we would expect the level of understanding within the market to increase and as such we should see a more sophisticated approach to the risks presented.
At this stage, most insurers are taking a general stance on their appetite for offering insurance policies to firms operating in these areas. Whilst the majority of insurers are currently steering clear and refusing to offer any form of cover for either direct or indirect risks presented, there are exceptions.
 
If you are involved in these activities, or considering entering the market, get in touch with us to discuss if and how you might protect yourselves against the risks faced.
Why you should try us
We're one of the first brokers with a team dedicated to 

insurance for cryptocurrency and digital assets

Extensive experience in finding insurance solutions for firms in the sector
Awareness of insurance market appetite and insurable risks
Personal service
Fast and efficient turnaround times
Key related services
What our clients say
We engaged Protean to provide the full range of insurance for Crowdcube. As a rapidly growing business, we needed a specialist broker that can provide the depth of expertise, whilst retaining a personal service and having been personally introduced to Protean, we are delighted that they have met all of our expectations and we would happily recommend them.

Protean Risk was incredibly helpful and understood our business immediately. Most importantly they got us a deal we were very happy with in a really short space of time. In summary Great people to work with!
We were recommended to work with Protean by one of our Venture Capital investors. As a FinTech business we have very specific requirements, meaning that we require support from advisers with the expertise in our sector. We found Protean Risk to be knowledgeable, organised and supportive throughout the process. We would be happy to recommend their services to others

Protean Risk were incredibly helpful when it came to meeting our insurance requirements; mostly down to their breadth of knowledge in their niche sector of insurance and their exemplary service levels. This allowed us to acquire a bespoke insurance package covering relevant insurances at competitive premium levels.

As a business newly authorised by the FCA, we have very specific PI requirements and also want to ensure the premium costs are competitive. Protean took time to understand our requirements and provide us with an efficient and responsive service. We can happily recommend their services.

Latest thinking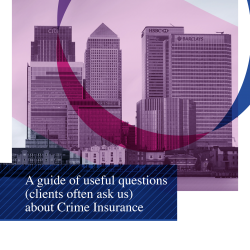 News / by Bethany Thomas
---
A guide to the most commonly asked questions about Crime Insurance. Read more...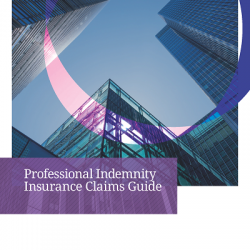 News / by Julian Brincat
---
An overview of the technicalities behind the notification procedure. Read more...