What we offer
We believe our dedicated team of Fintech and Payment Services specialists is the first of its kind in the insurance sector, and this team have a distinct focus on cryptocurrencies and digital assets. As affiliate members of CryptoUK, we are committed to being at the forefront of the insurance market when it comes to cryptocurrency risks.
Capacity in the insurance market is growing as more insurers recognise the need to underwrite exposures in cryptocurrencies and digital assets. We have access to multiple specialist insurers operating in this sector to provide our clients with the insurance protection they require.   
We help clients understand and mitigate their risks and vulnerabilities, such as hacking, technical error, fraud, and many more. The importance of implementing outstanding risk management processes is essential when industry estimates indicate more than $1 billion of cryptocurrency has been stolen since September 2012.
If you are involved in these activities, or considering entering the market, get in touch with our team to discuss the insurance protection we can provide.
Key benefits
Affiliate members of CryptoUK -  the first self-regulatory trade association for the UK crypto currency industry
A team dedicated to insurance for cryptocurrency and digital assets
Extensive experience in finding insurance solutions for firms in the sector
Awareness of insurance market appetite and insurable risks
Personal service
Fast and efficient turnaround times
Key contacts
Tristan Sargeaunt


Director, Fintech and Payment Services
Charlie Cooper, Cert CII


Account Manager
Key related services
What our clients say
We engaged Protean to provide the full range of insurance for Crowdcube. As a rapidly growing business, we needed a specialist broker that can provide the depth of expertise, whilst retaining a personal service and having been personally introduced to Protean, we are delighted that they have met all of our expectations and we would happily recommend them.

Protean Risk was incredibly helpful and understood our business immediately. Most importantly they got us a deal we were very happy with in a really short space of time. In summary Great people to work with!

We were recommended to work with Protean by one of our Venture Capital investors. As a FinTech business we have very specific requirements, meaning that we require support from advisers with the expertise in our sector. We found Protean Risk to be knowledgeable, organised and supportive throughout the process. We would be happy to recommend their services to others

Protean Risk were incredibly helpful when it came to meeting our insurance requirements; mostly down to their breadth of knowledge in their niche sector of insurance and their exemplary service levels. This allowed us to acquire a bespoke insurance package covering relevant insurances at competitive premium levels.

As a business newly authorised by the FCA, we have very specific PI requirements and also want to ensure the premium costs are competitive. Protean took time to understand our requirements and provide us with an efficient and responsive service. We can happily recommend their services.

Latest thinking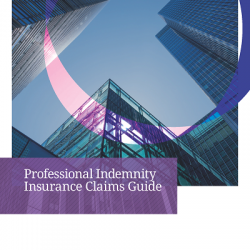 News / by Julian Brincat
---
An overview of the technicalities behind the notification procedure. Read more...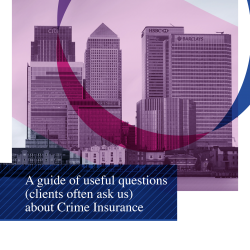 News / by Bethany Thomas, Cert CII
---
A guide to the most commonly asked questions about Crime Insurance. Read more...