What we offer
The Payment Services Sector has evolved in recent years driven by technological advancements and changing regulation.  Designed to foster innovation, create competition and develop a level playing field between traditional and new-age firms, the most recent development has been the implementation of the Payment Services Regulations 2017 (otherwise known as PSD2). PSD2 represents a significant development which will support the continued rise of payment related FinTech companies and provide opportunities for payment firms to create new services and revenue streams. 
Protean Risk has a long history of supporting the Fintech, Payment Services, and Technology sectors, having invested heavily over a number of years to gain expert knowledge, engage with industry associations and develop an understanding of which insurers are most likely to react most positively to companies innovating in this space.
Building on this strong platform, and using knowledge of PSD2, Protean Risk has created a distinctive proposition for Challenger Banks, Authorised Payment Institutions (API), E-Money Institutions (EMI), Small Payment Institutions (SPI), Account Information Service Providers (AISP) and Payment Initiation Service Providers (PISP).  The proposition has been created through combining expertise and innovation, as previously demonstrated by the creation of industry leading insurance products specifically designed to meet PSD demands. These activities have helped forge a deserved reputation within the sector for pioneering solutions, delivered through a bespoke, personal service.
Key contacts
Tristan Sargeaunt


Director, Fintech and Payment Services
Charlie Cooper, Cert CII


Account Manager
Why you should try us
Extensive Payment Services, FinTech and PSD2 knowledge
Market leading PSD2 Insurance for AISP/PISPs
Exclusive PSD Bond Insurance, a new Safeguarding option
Extensive knowledge of FInTech insurance and wordings
Access to a wide range of insurers offering choice and competitive premiums
Key related services
What our clients say
We engaged Protean to provide the full range of insurance for Crowdcube. As a rapidly growing business, we needed a specialist broker that can provide the depth of expertise, whilst retaining a personal service and having been personally introduced to Protean, we are delighted that they have met all of our expectations and we would happily recommend them.

We were introduced to Protean by a trusted partner in 2016 and have worked with them ever since. As experts in Fintech Insurance, they provide a high level of technical expertise, coupled with excellent service. Protean are well connected in the Fintech arena and are also a useful sounding board on broader risk and insurance matters.

Protean Risk was incredibly helpful and understood our business immediately. Most importantly they got us a deal we were very happy with in a really short space of time. In summary Great people to work with!

We were recommended to work with Protean by one of our Venture Capital investors. As a FinTech business we have very specific requirements, meaning that we require support from advisers with the expertise in our sector. We found Protean Risk to be knowledgeable, organised and supportive throughout the process. We would be happy to recommend their services to others

Protean Risk were incredibly helpful when it came to meeting our insurance requirements; mostly down to their breadth of knowledge in their niche sector of insurance and their exemplary service levels. This allowed us to acquire a bespoke insurance package covering relevant insurances at competitive premium levels.

As a business newly authorised by the FCA, we have very specific PI requirements and also want to ensure the premium costs are competitive. Protean took time to understand our requirements and provide us with an efficient and responsive service. We can happily recommend their services.

Latest thinking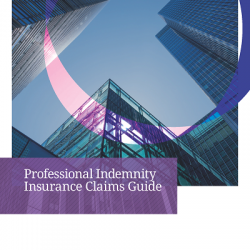 News / by Julian Brincat
---
An overview of the technicalities behind the notification procedure. Read more...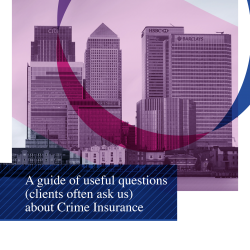 News / by Bethany Thomas, Cert CII
---
A guide to the most commonly asked questions about Crime Insurance. Read more...